Some Food
Clafouti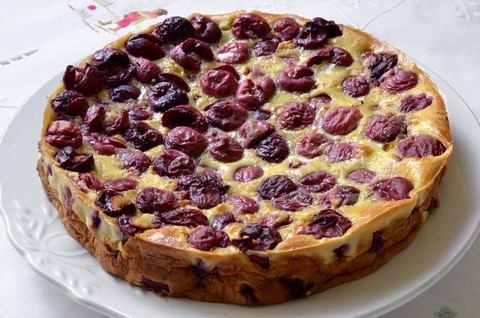 This is Jean-Marc's favorite dessert. It's quick and easy and the ingredients are almost always on hand.

2 Cups fruit, either fresh or canned and drained
60 grams of flour
30 to 50 grams of sugar (depends on your taste)
1/3 litre of milk (I usually use non-fat, but whole of course tastes great)
2 eggs
1 or 2 Tablespoons of liqueur in a flavor that complements the fruit. I find an almond flavor goes perfectly with peaches or cherries.

Blend eggs, then add flour and sugar. Slowly stir in milk to make a smooth batter. Add the liqueur. Lightly butter or spray with Pam a medium baking dish and throw the fruit on the bottom. Pour the batter to cover and bake in a 350° oven until a tester in the center comes out clean (approximately 35 to 40 minutes. You can sprinkle a little sugar on the top and put it under the broiler for a minute or two to if you like.

This recipe can easily be doubled, and I find that I almost always have to do that.
Tomatoes Provençales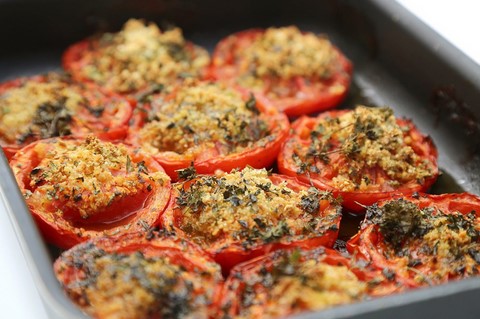 This is a terrific and simple side dish. It's amazing with good tomatoes, and can actually save the kind of bland tomatoes that we're often forced to buy at the market.

Enough tomatoes that, once cut in half, will cover the bottom of a baking dish. Halve tomatoes and scoop out the seeds. Place them cut side up in the baking dish. Drizzle a good quality olive oil over the top. Sprinkle with salt, crushed garlic (or even garlic powder) herbes de provence or a mixture of rosemary & thyme, and a small amount of sugar. Sprinkle lightly with bread crumbs.

Bake in a 350° for two to three hours until the tomatoes collapse on themselves and start to carmelize. These go well with almost any kind of meat or chicken dish, and are even terrific cold in a sandwich.
Galette de Perouges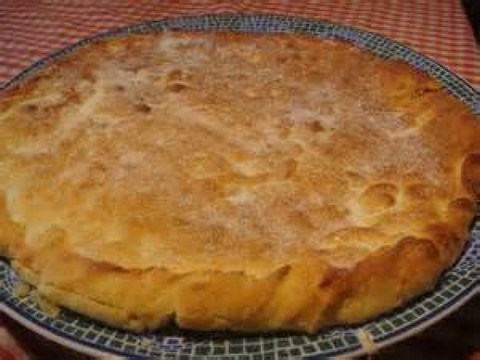 For one (1) 24 inch-diameter Galette:

2 eggs
zest of 1 lemon
1 pkg. yeast
10 g of Salt
30 g of Sugar
3 T plus 1 tsp of water
200 g of butter
350 g of flour

Mix the ingredients into a dough, then let rest 1 hour at room temperature to increase in volume. Roll it out thinly and cover with:
150 g of butter
40 g of powdered sugar

Cook at 400 degrees for 5 minutes, then broil for 3 minutes to caramelise the sugar (keep careful watch so that it doesn't burn).

LA GALETTE DE PEROUGES EST UNE MARQUE DEPOSEE, PROPRIETEE DE CHRISTOPHE THIBAUT.
Garlic Cheese Bread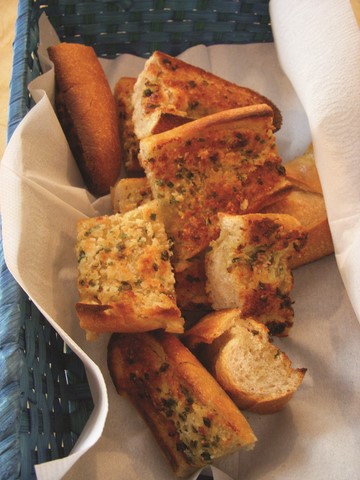 Cette recette est tellement simple que j'hésite même à la qualifier du nom de recette ! Aux Etats-Unis, le garlic cheese bread est servi en particulier dans les restaurants italiens et ceux spécialisés dans les grillades (« steak houses »). Bien sûr, chaque chef a sa recette « secrète » ; voici la mienne :

Achetez un grand pain style flûte. Coupez-le en deux dans le sens de la longueur.
125 g de beurre ramolli
25 g (environ) de parmesan râpé
1 cuillère à soupe d'ail semoule
Ciboulette
Sel

Mettez le beurre, le parmesan et l'ail dans un bol assez large et travaillez-les bien afin d'obtenir une pâte homogène. Ajoutez le sel et la ciboulette à votre goût.
Avec une spatule ou un couteau à beurre, étalez le mélange sur les deux moitiés de pain.
Mettez-les sur une plaque dans un four préchauffé à 200 degrés pendant environ 8 à 10 minutes. Le pain doit être doré, mais pas brûlé ; surveillez-le donc après les 5 premières minutes.

Une fois sorti du four, coupez le pain en tranches et servez le tout à l'apéritif ou comme accompagnement d'un repas. Assurez vous de garder au moins une tranche pour vous, sinon vos invités les mangeront toutes !
Daube au Coca-Cola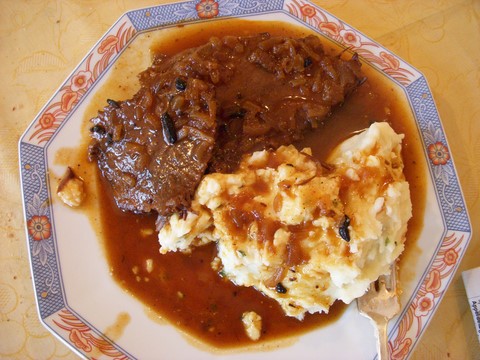 J'imagine déjà vos commentaires: « Du Coca ! Elle est folle ! » Je dois admettre que, la première fois que j'ai vu une recette pour une daube faite avec du Coca, cela m'a semblé bizarre à moi aussi. Pour être honnête, des années se sont écoulées avant que je ne trouve le courage de la réaliser. Et j'ai regretté d'avoir attendu aussi longtemps, parce que c'est excellent ! Oui, je vous le promets, vous ne devinerez jamais que c'est fait avec cette boisson pétillante et sucrée.
La première fois que j'ai réalisé cette recette pour Jean-Marc, je ne lui ai pas dit ce dont il s'agissait. Lui pensait que c'était l'un des meilleurs bœufs bourguignon qu'il n'avait jamais dégusté ! Quand je lui ai révélé la vérité, il en fut tout étonné. J'ai depuis essayé cette recette sur bon nombre de nos amis, et cela a toujours été un succès.
Vous pouvez la préparer avec de la viande coupée en dés, comme pour un bœuf bourguignon, ou avec un morceau plus large. Personnellement, je préfère utiliser un morceau entier, parce qu'après la cuisson, je peux le découper en tranches que je remets dans le jus et que je laisse cuire pendant encore une petite heure. Comme cela, la viande absorbe encore mieux la sauce et en devient toujours plus moelleuse et juteuse.
Enfin, j'aime en préparer une quantité supérieure à ce que nous pouvons manger lors d'un seul repas. Nous adorons les restes, et de plus, une daube est toujours meilleure le lendemain !

Pour 6 à 8 personnes :
1 ½ kg de viande (plat de côtes, collier, joue, épaule, etc.)
500 ml de Coca-Cola
400 ml de Ketchup
250 ml d'eau
1 sachet de préparation pour soupe à l'oignon
30 ml d'huile
Sauce « Worcestershire » (facultatif)

Faites chauffer l'huile dans une grande cocotte ; ajoutez la viande et faites-la dorer sur tous les côtés à feu moyen. Saupoudrez avec la soupe à l'oignon et ajoutez le Coca, le Ketchup et l'eau. Vous pouvez également ajouter une ou deux cuillerées de sauce « Worcestershire » pour relever le goût si vous le désirez. Personnellement, j'aime bien le faire.
Mélangez bien la sauce, mais ce n'est pas très important si le mélange n'est pas parfait, car tout va cuire ensemble durant la cuisson. Amenez la sauce à ébullition, recouvrez la cocotte et baissez le feu. Vous pouvez cuire la viande sur le feu ou bien dans un four à une température assez basse (170 degrés) pendant 3 ou 4 heures. Le temps de cuisson dépend de la taille du morceau de viande. On arrête la cuisson quand la viande est devenue très tendre. Si vous avez choisi un morceau entier, sortez-le de la cocotte, découpez-le en tranches, puis remettez les tranches dans la sauce, et la cocotte dans le four pendant encore 30 à 45 minutes pour que la viande s'imbibe bien du jus.
Servez la daube avec de la purée, des pâtes ou du riz.

NB : Si vous avez des restes (en particulier, beaucoup de sauce mais peu de viande), coupez la viande restante en petits dés. Faites cuire quelques pâtes, mélangez la sauce et la viande restante avec les pâtes, ajoutez environ 150 g de fromage râpé et mettez le tout dans un plat à gratin. Enfournez pendant 30 à 40 minutes et servez le tout bien gratiné.
Maggie's Meatloaf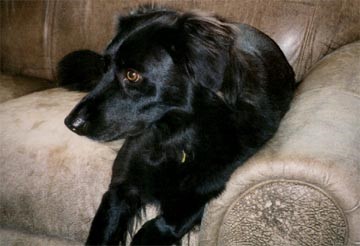 And one for our furry companions...

Unfortunately, I cook for Maggie the same way I cook for Jean-Marc and me, by feel rather than by recipe. But this is a good approximation to start with.

6 lbs ground or chopped meat. This can be beef, lamb, chicken, turkey, or whatever.
6 eggs, depending on the size of the egg
1/3 cup teriyaki sauce. Find one that doesn't have onion in it. Maggie seems to like one I've found that has ginger flavor in it.
2 T olive oil or 1/2 cup ground flaxseed
4 cups of cooked rice
1 1/2 cup of chopped mixed veggies. Almost anything except onions can be used here. As wide a variety as possible is good.

I mix it in my electric mixer to get it really well blended, then put it in a large oval casserole dish and bake it at 375 F for about 45 minutes. When it's cooked, I let it sit for long enough to cool, then separate it into about seven or eight servings, which seems to be the right amount for her. I was giving her less at first, until I realized that she needed a higher volume of this than she did of the dried food, because so much of home cooked food is water. I put it in refrigerator containers or baggies, which can also be frozen if you want to make more at a time.

VARIATION:

To give it more of an "Italian" flavor, replace the teriyaki sauce with:

1/2 cup grated parmesan cheese or other hard cheese
1 tsp or so of garlic powder.
2 tsp of Kraft cheddar cheese powder (this is the same powder that they use in their Macaroni and cheese and is available next to the grated parmesan in the supermarket. It seems odd, I know, but I think this helps to perk up the flavor.)

Good luck. Hope your furries like it.
My Cookbook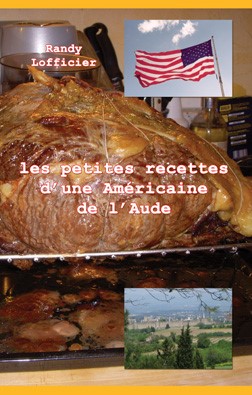 Les Petites Recettes d'une Américaine dans l'Aude
ISBN-13: 978-1-934543-96-2 - 60 pages - illustrées de 27 photos couleur

22 recettes américaines adaptées, pour la plus grande joie de tous, avec des ingrédients régionaux:

* Tourte au poulet (Chicken pot pie)
* Pâte brisée à la crème fraîche (Sour cream pie crust)
* Gâteaux "Blondies" (Butterscotch brownies/"Blondies")
* Pain au fromage et à l'ail (Garlic cheese bread)
* Daube au Coca-Cola (Coca-cola Pot Roast)
* Gâteau à la glace fondue (Melted ice cream cake)
* Pudding au pain (Bread pudding)
* "Cobb Salad"
* Sauce pour "Cobb salad" (Cobb salad dressing)
* Petits pains des Anges (Baking powder biscuits)
* Muffins à la canneberge et aux raisins (Cranberry-raisin muffins)
* Petits pains New Yorkais (Bagels)
* Raisins à la crème fraîche (Grapes in sour cream)
* Petits gâteaux aux raisins (Raisin cookies)
* "Sloppy Joes"
* Pains de hamburger en 40 minutes (40-minute hamburger buns)
* Gratin de hot dogs (Hot dog casserole)
* Pain aux bananes façon Randy (Banana bread)
* Gratin de pommes de terre (Twice-baked potato casserole)
* Pain au maïs (Corn bread)
* Rôti côtes de boeuf (Standing rib roast)
* Tourte aux pâtes (Noodle pudding/"Kugel")